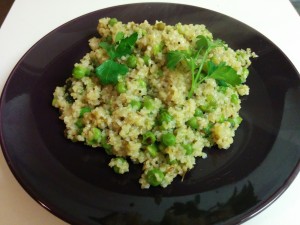 Portions: 8
Serving size: 1/2C
Highlights:
1. Source of Fiber
2. Source of Protein
Ingredients:
1 C Cracked Wheat
1/2C Peas, Fresh
1 tsp Rai, (mustard seeds)
1/2tsp Jeera (cumin seeds)
1/4tsp Salt
1 tsp green chilies
1tsp grated ginger
1Tbsp coriander leaves
1/4C Curd, -Sour
1/2C Home-made Paneer, toned milk
1Tbsp Vegetable Oil
Preparation:
Boil 1 liter of water on one of the stove.
On another stove, heat oil in a non-stick pan. Once oil is hot, add mustard seeds and then cumin seeds. When mustard seeds make a crackling sound, add ginger, green chilies, peas, and 1 cup of cracked wheat and fry it for 7-10 minutes on medium to high flame stirring continuously.
Once cracked wheat fries, add sour curds to the mixture and stir again for 3 minutes.
Add boiling water to the sautéed above mixture.
Cook it for 10minutes or till water evaporates.
Crumble fresh home- made paneer and add to the cooked upma to make it more nutritious.
Nutri-cracked wheat upma is ready to be served.
Nutrients per serving:
Calories: 145 Kcal
Protein: 4. 5g
Carbohydrates: 22 g
Fat: 4.5 g
Sodium: 120 mg
Phosphorus: 72 mg
Calcium: 40 mg
Potassium: 108 mg
Dietary Fiber: 4 g
Disclaimer: Including this recipe without consulting your dietitian may cause disturbances in your laboratory results. Creating variety in your eating pattern is one way to improve your quality of life.