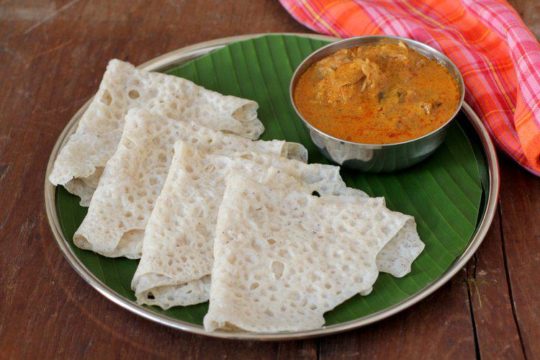 Serves 5
Portion size: 4 each (18- 20 pcs)
Ingredients:
Rice 150 g (Surati or Kollam)
Water 2 cups
Salt as prescribed by your dietician.
Oil as required
Procedure:
Soak rice overnight with enough water.
Next morning drain rice and grind it in a smooth paste.
Add very little water while grinding, 1 to 2 teaspoon at a time. If too much of water is added, you will not be able to grind the rice into smooth paste.
Transfer the batter in to a serving bowl.
Add twice the amount of water as to the batter quantity. The batter should be thin and free flowing.
Heat iron cast pan or non-stick pan. Grease the pan with enough oil.
Stir the batter well every time you pour a dosa on the pan.
Take a ladle full of batter and pour it on a greased pan to make thin dosa.
If dosa does not show pours add some water, similarly if you think the batter is too thin you can add little rice flour. Mix well.
Spread the batter evenly and fill the large pours with batter if any.
Cover the dosa with the lid for few seconds or until cooked. Do not flip it. Neer dosa has to be cooked from only one side.
Remove the dosa from the pan and fold it triangular shapes as shown in the pics.
Neer Dosa can be served with chutney, chicken curry and curry vegetables.
Nutritive value per serving
Calories – 92 Kcal
Proteins – 4 gram
Sodium – 3.5 mg
Potassium – 33.5 mg
Phosphorus – 80 mg