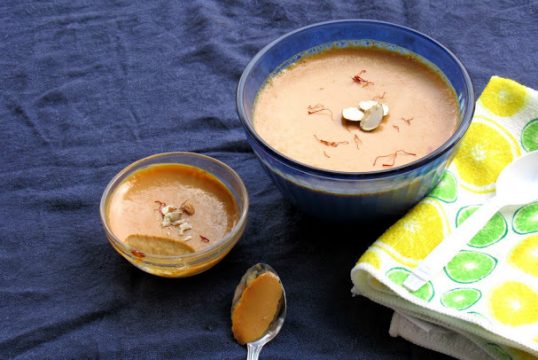 Portions: 5
Serving size: 1/3c
Ingredients:
4 cups Milk (toned)
3 tsp curd
1 c granulated sugar
½ tsp cardamom powder
Preparation:
1. Boil milk in a heavy bottom pan. Reserve 1/3 c sugar for caramelizing, pour the rest of the sugar and cardamom powder into the milk and boil till it reduces to 3/4th measure.
2. Remove from fire and leave it to cool.
3. To caramelize, heat 1/3 cup sugar in a heavy bottom pan on low heat, until sugar is caramelized to golden brown. Turn off the heat and add 25 ml of water to the caramelized sugar.
4. Add this caramelized sugar to the milk and stir until it blends well.
5. Then add curd to the above when milk is just warm but not cool and mix well.
6. Pour in serving dishes or terracotta pots to set.
7. Put the firm yogurt in the refrigerator for few hours before serving.
Nutrients per serving:
Calories: 277Kcal
Protein: 6.5g
Carbohydrates: 49g
Fat: 6g
Sodium: 39mg
Phosphorus: 183mg
Calcium: 244 mg
Potassium: 184mg