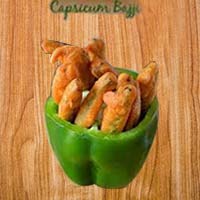 Portion Size: 36- 40 fingers
Serving Size: 3-4
Ingredients:
Besan 1 cup
Rice flour 2 tbsp.
Turmeric ½ tsp
Red chilli powder ½ tsp
Capsicum, medium 3
Hing 1/8 tsp
Water as required
Cooking Soda 1/8 tsp
Salt as suggested by dietician
Oil 3 tbsp.
Procedure:
Wash and cut bell peppers into small wedges. Cut them into your desired size depending on the size of your capsicum.
Take besan, rice flour, turmeric powder, red chili powder in a vessel and add baking soda. Mix them well without any lumps by adding water. Make a semi thick consistency.
Heat oil in a skillet for shallow frying on medium flame
Take a piece of capsicum, dip it in the batter, let the extra batter drip and put it in the pan.
When they get golden brown, flip them to the other side. When both sides are golden brown.
Transfer them on a plate covered with a paper napkin.
Serve immediately.
For Baked Mirchi Bhaji:
Preheat the oven to 425 degree F
Arrange the coated capsicum fingers on a baking tray. Brush with oil.
Bake for 22 to 25 minutes or until golden brown and crisp on the outside.
Nutritive value for one finger:
Calories : 25.5 Kcal
Proteins: 1.2 gram
Sodium: 7.2 mg
Potassium: 32 mg
Phosphorus: 10.8 mg
*Value of salt is not considered while calculating nutritive value
Note: Sodium content of Cooking soda/ Baking soda is 1259 mg per teaspoon. That is equivalent to half the amount of prescribed sodium intake for the entire day. The recommended sodium intake per day is 2300 mg.