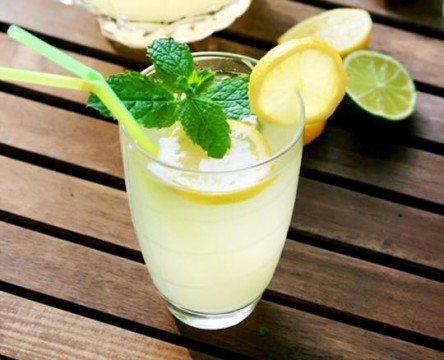 Portions: 7
Serving size:  1/2
Highlights:
1. Refreshing summer drink
2. No added salt
Ingredients:
1 Lemon – medium
25 Mint leaves
3tbsp Sugar
3C Chilled water
¼ c Ice cubes
1 ½ tsp raw mango fine and thinly chopped (optional)
Preparation:
1.Place mint leaves in a mortar and crush it using a pestle.
2. Mix the above ground mixture into 3C of chilled water and stir nicely.
3. Add sugar, ice cubes, juice from lemon and stir till sugar dissolves.
4. You can filter mint leaves or keep.
5. Add chopped raw mango and stir once.
6. Tangy mint lemonade is ready.
Useful Tip: Use sugar free for your portion if you are diabetic.
Disclaimer: Including this recipe without consulting your dietitian may cause disturbances in your laboratory results. Creating variety in your eating pattern is one way to improve your quality of life.