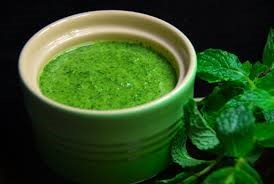 Ingredients: 1 cup =150 g
Mint Leaves 1 cup
Thick curd ¼ cup
Green chilies 1
Amchur/Dry Mango Powder ½ tsp. (Optional)
Jeera Power ½ tsp.
Onion ½ cup
Ginger chopped ½ tsp.
Preparation:
Rinse Mint well in the colander
Grind mint, Green chili, Onion and Ginger in a chutney jar to make a smooth paste, add little water if required.
Beat the curd using a whisk; mix the spices with the curd.
Mix curd with freshly ground chutney to make uniform paste.
Blend the mixture again, if required.
Serve 1 tbsp. of chutney with tandoor and starters.
Nutritive Value as per 1 cup (150 g)
Calories : 70.4 KCal
Protein : 3.54 gm
Sodium : 15.2 mg
Potassium : 256.2 mg
Phosphorus : 121 mg
*Serving size 1 tbsp. (15 ml) = 25.6 mg. potassium.