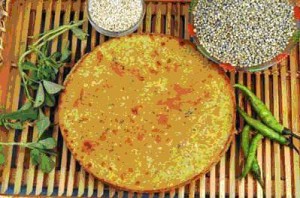 Portions: 8
Serving size: 1
Highlights:
1. No salt
2. Crispy
Ingredients:
1 C Whole wheat Flour
¼ C Methi leaves, chopped (Fenugreek)
½ tsp Green chili paste
¼ tsp Turmeric powder
1/8th tsp Amchur powder (Dry mango)
3tsp Oil
Preparation:
1. In a medium size bowl, add methi leaves, green chili paste, turmeric, 1 tsp oil and mix well.
2. To the above mixture and wheat flour and mix well. Then add water slowly to knead into a soft dough just like for roti. Cover the dough in a muslin cloth and leave it on the kitchen counter for 15 minutes.
3. After 15 minutes, lightly oil the dough and divide the dough into 8 balls and roll each ball into very thin rotis using wheat flour. Roll all 8 and then start baking.
4. Heat the iron tava on a medium heat and then turn the heat to very low. Bake the rotis on very low heat on both sides very lightly causing no burnt spots. Cook all 8 and keep it aside to cool.
5. After they cool, apply little oil on both the sides of each roti and bake the roti on tava by pressing the roti using flat round surface or potato masher or a kitchen towel. Start pressing outside edges first. Remove from fire as soon as you find it little crispy. On cooling, it will become crispier by itself.
6. Store it in an air tight container and use it with-in a week or 10 days.
7. For serving either you can sprinkle 1/8th tsp of amchur or eat it plain.
Tip:
You can also make khakras from the rotis which were already cooked. Press the cooked rotis in a roti maker two times and let it cool to become crisp. Alternatively use the same method as above on tava.
Disclaimer: Including this recipe without consulting your dietitian may cause disturbances in your laboratory results. Creating variety in your eating pattern is one way to improve your quality of life.