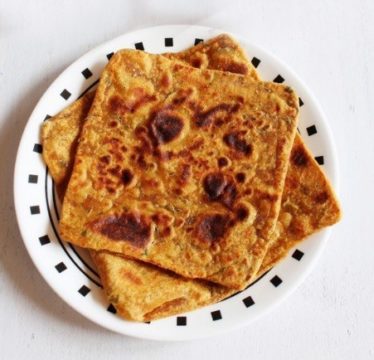 Portion Size: 10 in no (4"x 4")
Serving Size: 2-3 in no
Ingredients: (1 cup= 150 g)
Wheat Flour 2 cups
Water ½ -1 cup for kneading
Red chilli ½ tsp
Cumin Seeds ½ tsp
Haldi ¼ tsp
Ajwain ½ tsp
Oil 1 tsp
Salt As prescribed by dietician
Procedure:
Take wheat flour in a mixing bowl.
Add water to the mixture and start kneading. Add water in parts depending upon the quantity of flour.
Knead into smooth and soft flour. Allow the dough to rest for 20 mins.
Make 5 equal sized balls from the dough.
Roll the dough balls into square parathas, cook and stack them in a casserole.
Serve hot with plain curd, jeera raita or curry vegetable.
Nutritive value as per 1 piece:
Calories : 132 Kcal
Proteins: 0.77 gram
Sodium: 0.8 mg
Potassium: 128 mg
Phosphorus: 99.7 mg
*Values of salt are not considered while calculating nutritive value
Note: You can roll paratha into any desired shape and size.