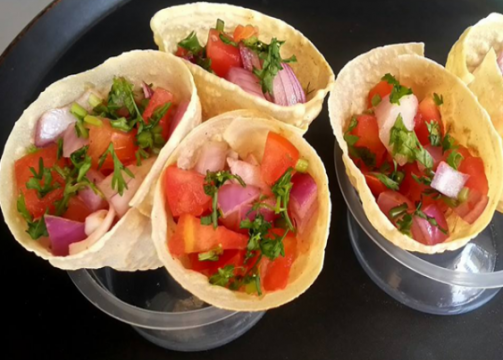 Portion Size: 3 in no
Serving Size: 1 cone
Ingredients:
Masala papad 3 pcs
Rice puffs 1 cup
Tomatoes, chopped ½ cup
Cucumber, peeled, chopped ½ cup
Onions, finely chopped ½ cup
Sweet and Sour Chutney – 2 tsp https://www.nephroplus.com/recipes/sweet-sour-chutney/
Coriander, chopped ½ tsp (optional)
Procedure:
Break papad into 2 equal parts to give 2 semicircles. Microwave 1 papad at a time for 20-25 seconds. While the papad is hot, curl it to form a cone shape. Similarly, make the other cones.
Make a mixture of all other ingredients except chutney. Stuff this mixture into each cone. Place each cone in short glasses to keep it standing.
Garnish each cone with chutney and chopped corriander. Serve immediately as cones will get soggy, if kept for long time.
NUTRITIVE VALUE AS PER ONE SERVING
Calories: 70 Kcal
Proteins: 2.6 gram
Sodium: 120 mg
Potassium: 166 mg
Phosphorus: 48 mg
Disclaimer: Including this recipe without consulting your dietitian may cause disturbances in your laboratory results. Creating variety in your eating pattern is one way to improve your quality of life.