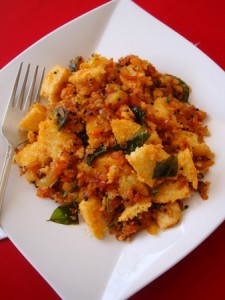 Portions: 1
Serving Size: whole portion
Highlights:
Check with your dietitian, if you are diabetic
No chutney is required
Ingredients:
4 idlis medium size
2 small green chilies
1/2c chopped onion
1/2tsp grated ginger
2 tsp chopped fresh coriander leaves
1/2tsp dhania powder (coriander)
1/2tsp sauf (aniseed)
1/2tsp garam masala
Pinch of turmeric salt
1/4tsp of lemon juice
2tsp oil
For tempering:
1/2tsp urad dal (black gram)
1/2tsp mustard seeds
3-4 curry leaves
Preparation:
1.Cut all idlis into cubes and keep it aside. Use no salt to make idlis.
2.Heat oil in a fry pan and add ingredients for tempering.
3.After ingredients splutter, add chilies, onion, ginger, and all spices, condiments and pinch of salt. Cook till onions are tender.
4.Add the cubed idlis and lemon juice to the above and mix well.
5.Garnish with fresh coriander leaves.
Disclaimer: You may consult your dietitian to individualize your meal plan for better meeting your individual needs. Meeting your calorie and protein needs in dialysis is very essential.