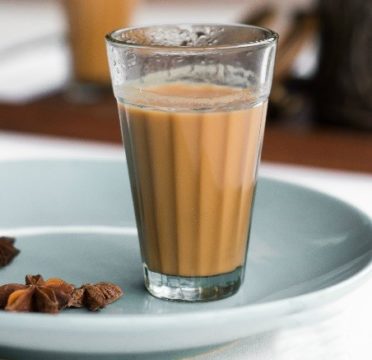 Portion Size: 4 cups
Serving Size: As per fluid restriction.
Ingredients: (1 cup = 120 ml)
Water 3 cups
Milk 1 cup
Sugar 5-6 tsp
Ginger, crushed ½ inch
Cardamom, pods 2
Cinnamon 1 inch
Black pepper, pods 4-5
Cloves, whole 4
Tea Powder 3-4 tsp
Procedure:
In a mortar, crush all the spice.
In a pan take water, add spices and bring it to boil.
Add milk and sugar to the pan and again bring it to boil, keep the flame to low.
Turn off the gas, cover the pan, and let it steep for 2-3 mins.
Stir and strain directly into cups.
Sip and enjoy.
Nutritive value for 1 cup:
Calories : 72 Kcal
Proteins: 2.1 gram
Sodium: 32.4 mg
Potassium: 105 mg
Phosphorus: 54 mg
Note: If you opt for black (without milk) masala tea. The potassium content per cup will reduce by 50 mg.