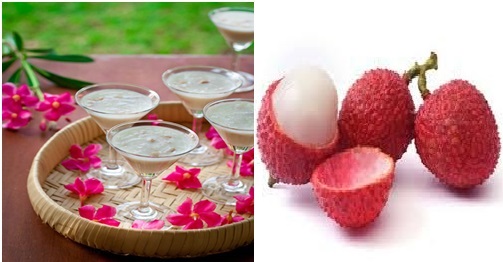 Portions: 3
Serving size:  3/4c
Highlights:
1. Good source of protein
2. Medium Potassium
Ingredients:
10, Litchi, Deseeded.
1/2C Paneer
1/2C Milk
1C Water, Chilled
3/4C Ice
4tsp Sugar
1 Cardamom
Preparation:
1. Add Ice and plain water first in the blender and blend 8 litchis.
2. After blending litchis, add milk, paneer, sugar, cardamom seeds and blend till smooth.
3. Serve in the cups and chop the remaining 2 litchis and sprinkle on the top for a chewy texture.
Nutrients per serving:
Calories: 100Kcal
Protein: 6gm
Carbohydrates: 14gm
Fat: 3gm
Sodium: 186mg
Phosphorus: 105mg
Calcium: 95mg
Potassium: 159mg
Dietary Fiber: 0.4gm
Disclaimer: Including this recipe without consulting your dietitian may cause disturbances in your laboratory results. Creating variety in your eating pattern is one way to improve your quality of life.