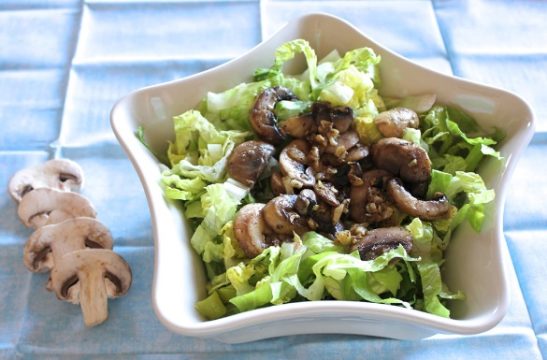 Portion: 4
Serving: 3/4 cup
Ingredients:
Lettuce Leaves
Chopped Garlic 1 tbsp.
Mushroom, medium 5-6 in no
Balsamic Vinegar 1 tsp
Oil ½ tsp
Black pepper ¼ tsp
Pomegranate 2 tbsp optional
Procedure:
1. Thoroughly wash lettuce leaves in a cold water, drain well & dry them up with the kitchen towel.
2. Chop Lettuce leaves coarsely and keep aside.
3. Clean mushroom, in running water and Soak it in water for 15-20 mins.
4. Chop mushroom into thin slices.
5. In a pan, add oil and fry garlic until dark brown.
6. Add slice mushroom and stir-fry for few minutes on high flame.
7. Add vinegar and black pepper
8. Combine the entire ingredient together in a deep bowl and toss well.
9. Serve Immediately.
Nutritive value as per one serving:
Calories : 18 Kcal
Proteins: 0.6 gram
Sodium: 7.5 mg
Potassium: 112.5 mg
Phosphorus: 33 mg
Note: Add 1 tsp of vinegar to the water while soaking vegetables. It removes dirt and pesticides.