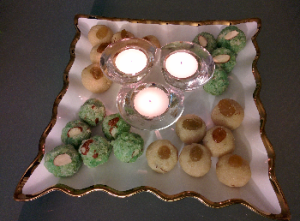 Portions: 12
Serving size: 1
Highlights:
1. Low Potassium , green colored
Ingredients:
500gm Lauki ( Bottle Gourd)
1 C Sugar, powdered/ sugar substitute
1 tsp Cardamom powder
1 drop Green Color( Optional)
3 Tbsp Semolina, fried
1 tsp Ghee
1Tbsp Almonds, sliced
Preparation:
Peel bottle gourd and cut the bottle gourd into 3 to 4 pieces cross section wise.
Grate bottle gourd little thick taking care the center portion of the bottle gourd with seeds is not grated. Use only the green portion of the bottle gourd to keep nice green color.
Use a sieve mesh and put grated bottle gourd to sit in the mesh to drain any excess water from the bottle gourd. Do not squeeze the grated bottle gourd.
In a pan add grated bottle gourd and sugar and mix thoroughly.
Now switch on the stove and start heating the above.
Sugar will turn into liquid and will start cooking lauki.
Add Cardamom powder and a drop of green color to make it look attractive if you wish.
Close the lid and let it cook for five minutes.
After 5 minutes, take out the lid and stirring occasionally and consistently cook the vegetable making sure water evaporates.
Once there is minimal liquid, turn off the heat and let it sit for 1 hour to cool.
In another pan fry Suji Rava using ghee for 3 to 5 minutes to use it later.
Once the cooked lauki mixture cools, add 3 Tbsp of rava and almonds and make laddos out of this mixture.
Lauki ke Laddo is ready .
Tip:  Do not over cook the grated lauki with sugar than recommended. Over cooking can make the mixture hard.
Nutrients per serving:
Calories: 84 Kcal
Protein: 0.5 g
Carbohydrates: 19 g
Fat: 8 g
Sodium: 8 mg
Phosphorus: 60 mg
Calcium: 58 mg
Potassium: 40 mg
Dietary Fiber: 0 g
Disclaimer: Including this recipe without consulting your dietitian may cause disturbances in your laboratory results. Creating variety in your eating pattern is one way to improve your quality of life.