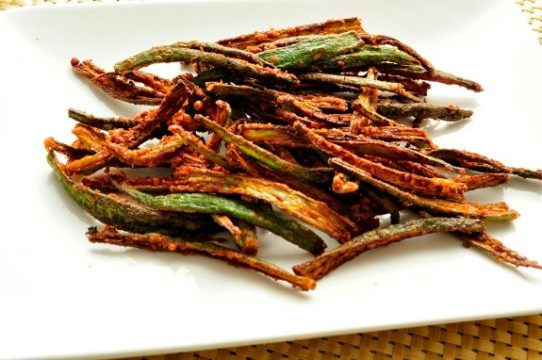 Portion: 2 cups
Serving Size: 1 cup
Ingredients:
Bhindi – 10 in no
Red chilli powder- ¼ tsp
Coriander powder- ¼ tsp
Turmeric powder- ½ tsp
Besan flour- ½ tsp
Rice flour-1 tsp
Chat Masala- ½ tsp
Oil- 2.5 g
Hing- ¼ tsp
Procedure:
Clean the bindi and pat it dry.
Cut the head, tail and thinly slice them.
Remove all the seeds and transfer it to the mixing bowl.
Now, add all the above ingredients and gently mix without squeezing the bhindi.
Microwave it for 8 minutes on high power and then stir it once with a spatula.
Put the dish back in microwave and microwave for 4-5 more minutes.
Crispy microwave bhindi is ready.
Serve with hot jeera rice.
Nutritive value as per one serving
Calories – 70 KCal
Proteins – 2.45 gram
Sodium – 63 mg
Potassium – 105 mg
Phosphorus – 63 mg