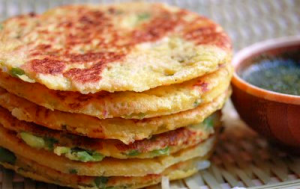 Portions: 4
Serving size: 3
Highlights:
1. Source of Protein and fiber.
Ingredients:
1 C Jowar flour
¼ C Coriander leaves, chopped
1Tbsp Red capsicum, chopped
1 tsp Jeera powder
1 tsp Red chili powder
1tsp Green chilies, ground
1/2tsp Turmeric powder
3/4tsp Amchur powder
1tsp Ginger grated
1/4C Curd
1/4tsp Salt
2Tbsp Vegetable Oil
Preparation:
In a big bowl, add Jowar flour, all dry spices, green chilies, ginger, curd , and mix well.
Stir in water slowly and turn into a lightly thick batter.
Add chopped vegetables and let it sit on the counter for 15 minutes.
Heat a non-stick pan on medium heat, brush the pan lightly with oil and pour the batter in the center of the pan into mini cheela.
Flip to the other side as soon as you see golden edges.
You can sprinkle vegetables after flipping to the second side if you do not want vegetables to be mixed in the batter.
Once it cooks golden on both the sides, it is ready to be served.
Nutrients per serving:
Calories: 198 Kcal
Protein: 5 g
Carbohydrates: 26 g
Fat: 9 g
Sodium: 166 mg
Phosphorus: 72 mg
Calcium: 51 mg
Potassium: 102 mg
Dietary Fiber: 3.3 g
Disclaimer: Including this recipe without consulting your dietitian may cause disturbances in your laboratory results. Creating variety in your eating pattern is one way to improve your quality of life.