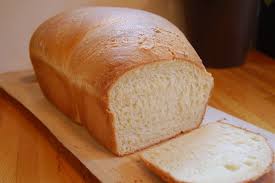 Portions: 24
Serving size: 1 slice
Highlights:
1. Low sodium
Ingredients:
500gm Maida (4C)
15gm Dry yeast
2tsp Sugar
1Tbsp vegetable oil
½ tsp olive oil
½ tsp. Salt
¾ tsp. Roasted jeera
Preparation:
1. Roast cumin seeds till aroma comes out on a flat hot pan. Crush lightly without making powder and keep it aside.
2. Sieve the refined flour and fold in jeera in it.
3. Heat 1 cup water till warm. To 1/2cup warm water add yeast, sugar and leave it for five minutes for yeast to become active and frothy.
4. To another 1/2cup warm water add salt.
5. Make a soft dough by pouring in both the liquids. You may use additional warm water for kneading into soft dough. Knead it for at least 6-10minutes.
6. Add vegetable oil, olive oil, knead well and cover with a wet cloth. Leave it till it becomes double in size.
7. Knead again to its original size and wrap it in the wet cloth.
8. Again knead to the original size and shape into bread loaves.
9. Place the shaped loaves in two greased loaf tins. Cover with wet cloth to again till it becomes double in size.
10. Bake in hot oven at 450 F for first 10 minutes and later reduce the temperature to 375F and bake for another 15-20 minutes.
11. Remove from the oven and brush little oil on the top.
12. Slice when it cools down.
Tip:
You can bake in microwave convertible convection oven. Preheat the oven at 210 C and cook for 30- 40 min. Since all convertible microwave convection oven are not same, decrease the temperature after 10 min if you have coils on the top and bottom.
To make Pav
1. Make the dough as for the Jeera bread and add 1 more Tbsp of oil while kneading.
2. Shape the dough into small balls or rectangles and place them on the greased pan and cover with wet cloth.
3. Let it become double the size.
4. For making small buns leave enough space between each dough and do not allow them to touch while baking.
5. Preheat the microwave convertible convection oven to 190 degrees C and bake for 40-45 minutes.
Tip: If the bread starts getting brown quickly, cover the top with aluminum foil or butter paper.
Disclaimer: Including this recipe without consulting your dietitian may cause disturbances in your laboratory results. Creating variety in your eating pattern is one way to improve your quality of life.