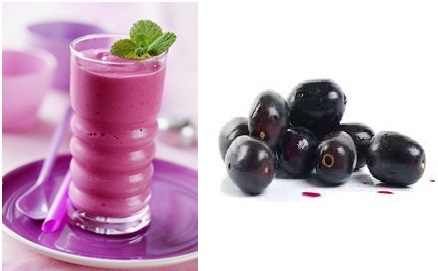 Portions: 4
Serving size:  3/4c
Highlights:
1. Good source of protein
2. No added sugar
Ingredients:
2 C Plain Curd,
20 Jamuns, deseed, desi, small
3/4C Ice
4 Dashes -Salt
1/4 tsp Chili powder
Mint leaves
 Preparation:
1. Add Ice and plain curd first and throw in the rest of the ingredients in a blender except the mint leaf.
2. Blend the ingredients smoothly and pour in the thick blended smoothie in small, thin long glasses.
3. Garnish with a mint leaf
Useful Tip: Make this fresh and use it same day. Do not stock extra portions for next day as it can decay fast.
Nutrients per serving:
Calories: 105Kcal
Protein: 4gm
Carbohydrates: 11gm
Fat: 5gm
Sodium: 226mg
Phosphorus: 122mg
Calcium: 190mg
Potassium: 200mg
Dietary Fiber: 1.75gm
 Disclaimer: Including this recipe without consulting your dietitian may cause disturbances in your laboratory results. Creating variety in your eating pattern is one way to improve your quality of life.