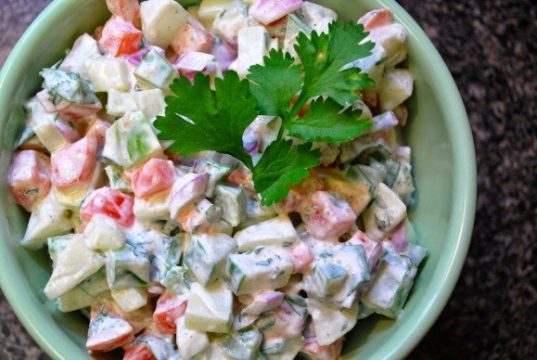 Portion: 1 cup (Serves 4)
Serving Size: 1 tsp.
Ingredients
Curd 3 tbsp.
Black pepper ¼ tsp.
Capsicum, finely chopped 1 tsp.
Bell peppers optional 1 tsp.
Cucumber, grated 1 tsp.
Onion, finely chopped 1 tsp.
Procedure
Place curd in a muslin cloth and hang it till whey drains completely.
You can also place heavy bowl lid on the tied muslin and allow the whey to dribble out.
After the required amount of time kept to drain you will get creamy hung curd.
Add all the other ingredients. Mix it well.
Dip is ready to be served with Khakras, Nachos, Beet stripes.
It can also be used as spreads for sandwiches and wraps.
Nutritive value as per one serving
Calories: 36.25 Kcal
Proteins : 2.395 gm
Sodium : 4.25 mg
Potassium : 24.4 mg
Phosphorus : 20.75 mg