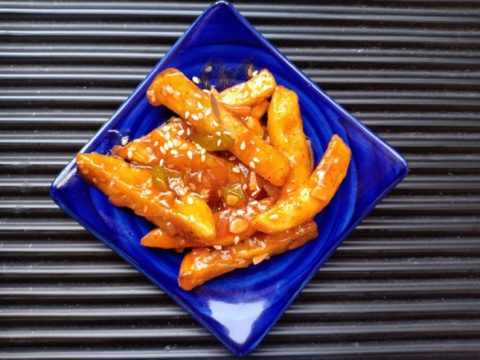 Portion Size: 35-40 fingers
Serving Size: 6-7 fingers
Ingredients:
Potato, medium 3
Garlic paste ½ tsp
Garlic chopped 1 tsp
Chili powder 1 tsp
Cornflour 4 tsp
Green chilli slit 2 in no
Red chilli sauce 1 tsp
Soy sauce 2 tsp
Vinegar 1 tsp
Tomato ketchup 1 tsp
Honey 1 tbsp.
Oil 2 tsp
Salt as suggested by dietician.
Spring onion leaves 2 tbsp. (For Garnishing)
Procedure:
Peel potato and cut them diagonally like fingers. Soak in water for 4 hours. Pressure cook for 1 whistle. Drain off water and keep aside.
Combine potato, cornflour and garlic paste. Brush 1 tsp oil on the potato finger and grill for 3 mins each side, till thoroughly cooked.
Mix Red chilli powder, chili sauce, soya sauce, vinegar and tomato ketchup using little water. Make a thick paste. Keep aside.
In a non-stick pan, heat 1 tsp oil. Sauté chopped garlic and green chilli for few seconds.
Add the sauce paste with little water and cook until it slightly thickens.
Add honey and cook for another 2 mins.
Combine the grilled potato with the prepared sauce. Toss well and garnish with chopped spring onion.
Serve honey chilli potato as hot as a starter
Nutritive value as per one serving:
Calories : 287 Kcal
Proteins: 2.04 gram
Sodium: 80 mg
Potassium: 260* mg
Phosphorus: 38 mg
*Actual potassium content is 433 mg per serving. After leaching, the potassium content may drop up to 40 %
*Values of salt are not considered while calculating nutritive value. The sodium content in ¼ tsp salt is approx. 575 mg.
Note: Try substituting the potato with cauliflower or chicken.