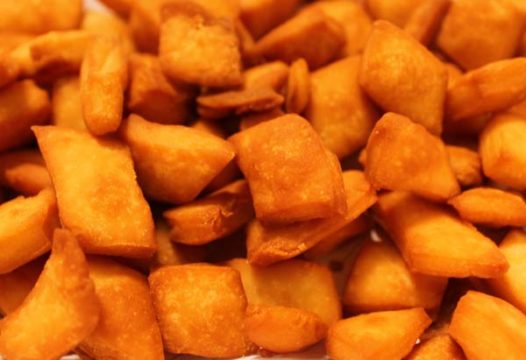 Portions– Small jar (4 bowls)
Serving size– ½ bowl
Ingredients
Wheat flour, refined – 1.5 cup
Ghee, melted – ½ cup
Sugar, powered – ½ cup
Milk low fat- ½ cup
Baking soda- ¼ tsp.
Salt- ¼ tsp
Procedure
Sieve wheat flour and baking soda together through a fine mesh. Keep aside.
Take ghee and sugar in a medium bowl and whip it together till mixture turn light.
Add wheat flour to sugar ghee mix, add milk and knead the ingredients into soft dough.
Cover the dough with a muslin cloth and allow it to stand for 20 mins.
Now roll the dough into medium size sheets using a rolling pin.
Meanwhile pre heat the oven at 180 C.
Use shankarpali / pizza cutter or a simple knife to cut it into diamond shape.
Place shankarpali on baking sheet in a single layer with enough space between them.
Bake it for 25-30 mins or until golden brown.
Remove from oven; bake the next slot of shankarpali in the same manner.
Baked shankarpali is ready to serve.
Nutritive value per serving
Calories – 106Kcal
Proteins – 1.5gram
Sodium – 156mg
Potassium – 25mg
Phosphorus – 21mg