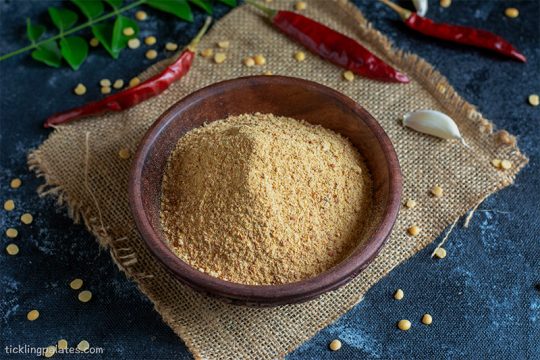 Ingredients: 1 cup =150 g
Urad dal 1 cup
Chana dal 1 cup
Red Chilies 8-10 in no
White sesame seeds, dry roasted 1 tbsp.
Hing powder ½ tsp.
Jaggery small piece (optional).
Preparation :
Roast the dals together in two teaspoons of oil, till golden brown.
Add red chilies and roast for two minutes.
Add hing powder, sesame seeds, jaggery and salt.
Grind the mixture coarsely.
Mix with sesame oil and eat with idli, dosa and rice.
It can be stored for two to three months in a air tight container.
Nutritive Value as per 1 small jar (400 g)
Calories : 1158 Kcal
Proteins : 70.62 gm
Sodium : 184.5 mg
Potassium : 2375 mg
Phosphorus : 1167.5 mg
*Serving size 1 tbsp. (10 g) = 59 mg potassium