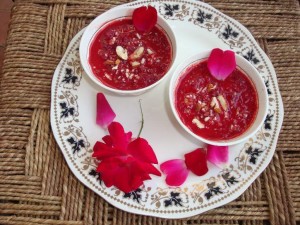 Portions: 3
Serving size: 1/3 cup
 Highlights:
Dessert for Valentine's day

Natural fat
Ingredients:
3/4C of Beetroot, fresh grated
½ C Milk- toned
3 Tbsp Sugar/ Sugar free
1/2 tsp Cardamom powder
1 C Water
½ tsp Watermelon seeds
4 Almonds
Few drops -Rose essence
Preparation:
Boil grated beetroot in a pan in 1 C of water covering the lid for 5-7 minutes. Uncover the lid and let 3/4th of the water evaporate.

Add milk, cardamom powder and let it boil on a slow flame till milk thickens little.

Turn the heat off and add coarsely crushed watermelon seeds, rose essence, stir evenly.

Serving for three portions is ready.

Garnish with chopped almonds on the top and few rose petals on side.
Tip: 
For light pink color, rinse the freshly grated beetroot under running water for a minute.
Disclaimer: Including this recipe without consulting your dietitian may cause disturbances in your laboratory results. Creating variety in your eating pattern is one way to improve your quality of life.