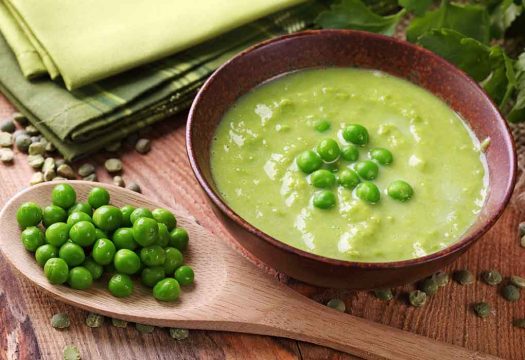 Portions: 3
Serving size: 1/2c
Highlights:
Source of protein
Comfort food
Ingredients:
3/4C of Green peas, fresh
5 tsp of Vegetable oil
1tsp of Ginger, grated
1tsp Jeera (cumin)
1/4tsp Methi Dana (Fenugreek seeds)
1/4tsp Turmeric powder
1/4tsp Garam Masala
1Tsp Lemon Juice
1/4tsp Black Pepper
1 ½ tsp of fresh cream (optional)
2 C water
Pinch of salt
Preparation:
Using no water or very little water blend green peas into a coarse paste.
Fry the coarse peas paste along with the grated ginger, pinch of salt in 3 tsp oil over the medium flame for 5 minutes. Keep it aside.
In another pan, heat 2 tsp of oil, add Jeera, Methi Dana to crackle. Add turmeric powder and add 2 cups of water to boil.
To the above boiling mixture add the roasted peas mixture and turn the flame to low and cook for 20 minutes. Turn off the heat.
Add Black Pepper, Garam Masala and Lemon juice. Mix well and cover the lid and leave for few minutes.
Garnish the soup with 1/2tsp of fresh cream and serve hot or cold.
Disclaimer: Including this recipe without consulting your dietitian may cause disturbances in your laboratory results. Creating variety in your eating pattern is one way to improve your quality of life.