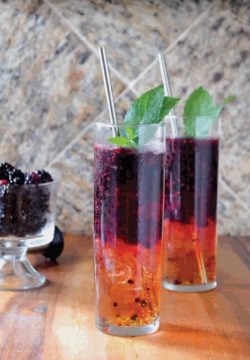 Portion Size: 450 ml
Serving Size: 120 ml
Ingredients:
Blackberries 1 cup
Sugar As per taste (Optional)
Ginger ale 1 bottle
Ice, crushed
For Garnishing:
Few Blackberries and Mint
Procedure:
In a large container mishmash blackberries and sugar and mash until smooth.
Fill 4 glass (Approx. 120 ml) with ice and fill each glass halfway with ginger ale.
Tilt glass and gently pour in blackberry mixture until glass is full.
Garnish with additional blackberries and mint.
Nutritive value as per one serving (120 ml)
Calories – 31 KCal
Protien – 1.10 gram
Sodium – 6.75 mg
Potassium – 30 mg
Phosphorus – 4.5 mg
Note: Minimize the quantity of drink depending upon the fluid restriction prescribed by the Nutritionist.
Quick Grocery Shopping Tips:
Ginger Ale is readily available under brand name Schweppes Ginger ale. You may also get some of its varieties in Natures Baskets, Reliance fresh and Big Basket.