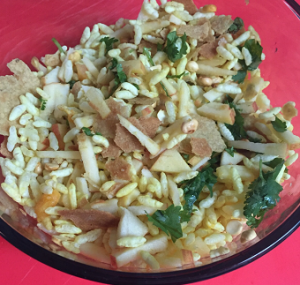 Portions: 4
Serving size: 3/4C
Highlights:
1. Chutney less, sour and sweet taste
2. Low Sodium, Medium Potassium
Ingredients:
2C Puffed Rice (Murmura)
1/2C Apple, finely chopped
1/2C Pineapple, finely chopped
1/4C Roasted Bengal Gram (Putana dal)
1/2 Khakra
1 tsp, Chili, green finely chopped
Sprinkle of chili flakes
1/2 Lemon, small
1Tbsp Olive Oil
Pinch of Turmeric
Pinch of Salt (optional)
½ Spring of Curry leaves
Preparation:
  In a pan fry puffed rice and pinch of turmeric and curry leaves on dry heat first and then add roasted Bengal gram. Set this aside.
Chop Pineapple, apple, chilies finely.
Mix all the chopped fruits and chilies to the above fried mixture.
Add 1 Tbsp of oil to the mixture.
Squeeze in half lemon and add a pinch of salt if desired.
Mix the bhel nicely, then garnish it with crumpled khakra.
Enjoy the chatpata juicy bhel with- out any chutneys.
Nutrients per serving:
Calories: 135 Kcal
Protein: 3 g
Carbohydrates: 20 g
Fat: 5 g
Sodium: 51 mg
Phosphorus: 53 mg
Calcium: 22 mg
Potassium: 123 mg
Dietary Fiber: 1.3 g
Disclaimer: Including this recipe without consulting your dietitian may cause disturbances in your laboratory results. Creating variety in your eating pattern is one way to improve your quality of life.