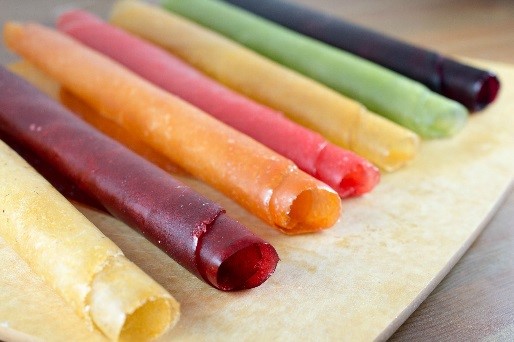 Portion size: 10-12
Serving size: 02 rolls
Ingredients:
Fruit pulp, 2 cups
Lime ½ tsp
Sugar, if required
Cinnamon ¼ tsp (optional)
Procedure:
Clean and de seed the fruits. Put all the ingredients in a blender and blend until smooth paste.
Taste the fruit pulp, if require add sugar. (I prefer going with the natural sugar in the fruit).
Pour the blend onto a greased tray or steel plate and spread evenly with a spatula.
Cover the tray with cling foil and let it sun dry for total 10 hours in hot sun or until the pulp is completely dry and non-sticky.
You can even dry the pulp in an oven for 3 hours at 170 degrees.
Once dry, you can cut it into strips and store in an airtight container.
Nutritive value as per roll
Calories – 30Kcal
Proteins – 0.2gm
Sodium – 0.1mg
Potassium – 31.3mg
Phosphorus – 2.45mg
Note: Apples, watermelon, Kiwi, Blueberries, Jamun, Papaya, Raspberries and strawberry pulp can be used to make fruit leather.