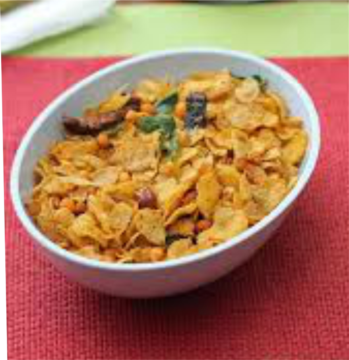 Portion Size: 300g
Serving Size: 30 g (3/4 th bowl)
Ingredients:
Cornflakes (dry) 250 g
Poha ½ cup
Raw unsalted peanuts ¼ cup
Curry leaves – 1 sprig
Red chilli powder – 1 tsp
Sugar ½ tsp
Salt ¼ tsp
Oil 1 tsp
Procedure:
In a microwave, proof bowl place the corn flakes and microwave at high for 3-4 minutes until they pop up and become crisp.
Mix once after every minute to avoid burning and to get crisply done flakes. Transfer to a bowl.
Repeat for Poha and peanuts one after the other.
Microwave each ingredient separately as the roasting time will differ and once done keep transferring to the same bowl.
Heat oil in a pan. Once it has reach smoking point, turn off the flame and take the pan off the stove.
Immediately add red chilli powder, salt, sugar and curry leaves and mix briskly.
Add all the roasted ingredients to the pan and mix gently until all the ingredients are well coated.
Store this cornflakes mixture in an airtight container and enjoy at leisure.
Nutritive value as per one (30 g) serving :
Calories : 147 Kcal
Proteins: 2.4 gram
Sodium: 131 mg
Potassium: 49 mg
Phosphorus: 29 mg
Note: Use flaked corn (locally available) instead of packed cornflakes. Packed cornflakes (cereals) will add 200 mg of extra sodium per serving.