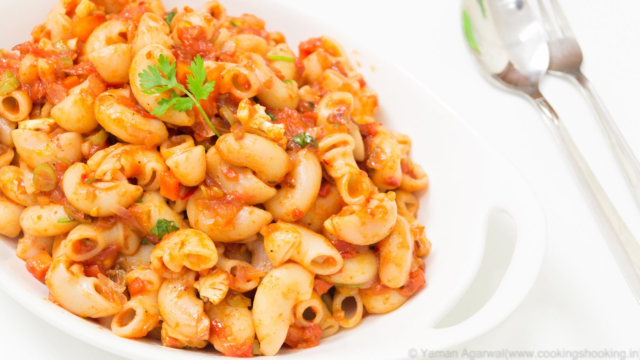 Portion Size: 4 serving
Serving Size: 1 cup
Ingredients:
Pasta 2 cups
Oil 2 tsp
Cumin Seeds ¼ tsp
Onion, 1 large
Tomato, blanched, pureed ½- ¾ cup
Mixed vegetables, Leached 1 cup (Fresh green peas, finely chopped carrots & Capsicum)
Garlic, chopped 1 tsp
Red Chilli powder ½ tsp
Garam Masala ¼ tsp
Salt ¼ tsp
Sugar 1 tsp
Procedure:
In a large pot, bring 5- 6 cups of water to boil. Add 1 tsp of oil and pasta and cook until al dente or you can refer to the cooking instructions mention on the pack.
Rinse the pasta under running cold water. Drain in a colander and keep aside.
Heat oil in a non-stick pan, add jeera and let it splutter. Add chopped garlic and fry until golden brown.
Add sliced onions and fry until they turn soft and pink.
Toss leached veggies and stir-fry on high flame for 2- 3 mins.
Add pureed blanched tomato to the pan and cook until it blends well with the veggies. Add red chilli powder, sugar and garam masala.
Add little water, cover it with a lid and cook until the masala is well cooked.
Add cooked pasta and stir well. Cook for 2- 3 minutes and serve hot.
Nutritive value as per one serving:
Calories : 195 Kcal
Proteins: 4.3 gram
Sodium: 163 mg
Potassium: 180 mg
Phosphorus: 60 mg
Note: You can use pasta of your choice. Macaroni, Penne and spaghetti goes well with this preparation.