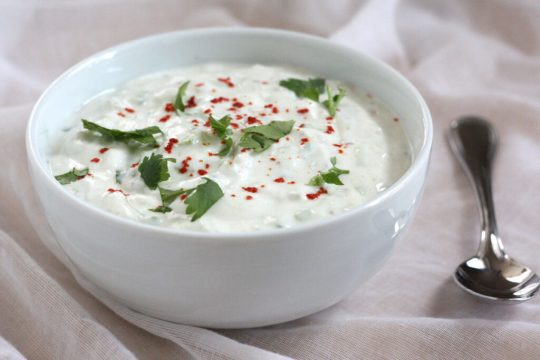 Portions: 4
Serving size: 1/3c
Highlights:
1. Nice accompaniment to any meal
2. Simple, fast, easy to make
Ingredients:
2Tbsp low fat beaten curd
1 cup peeled and chopped cucumbers
1/4tsp roasted jeera powder
1 green chili
Mint leaf for garnishing
1/4tsp mustard seeds
½ tsp oil
Preparation:
1. In a bowl, toss in all the ingredients except mustard seeds and oil and mix well.
2. Splutter mustard seeds in oil and pour over the cucumber raita. You may drain out oil.
3. Garnish with mint leaf and sprinkle jeera powder lightly.
Nutrients per serving:
Calories:16Kcal
Protein:0.4 g
Carbohydrates: 2g
Fat: 0g
Sodium: 9mg
Phosphorus: 24mg
Calcium: 30mg
Potassium: 44mg
Disclaimer: Including this recipe without consulting your dietitian may cause disturbances in your laboratory results. Creating variety in your eating pattern is one way to improve your quality of life.