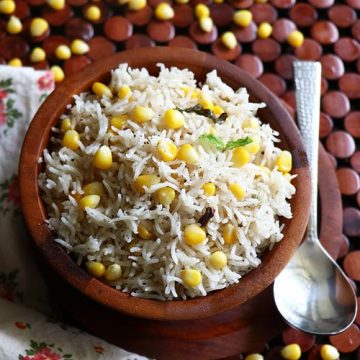 Here is a quick rice recipe with Corn Kernels... Corn or Maize is a staple food in many counties, although it originated in South Mexico. It helps in management of Diabetes and lowers Blood Pressure. Hence, it can be seen as Kidney friendly. It is a rich source of Vitamins and minerals.
Portions – 3 nos.
Serving Size - 75g (1/2 cup)
Ingredients: (1 Cup = 150g)
Rice, Boiled – 150g (1 Cup) Corn, Boiled – 50g (1/3rd Cup) Chopped Onions – 1 tbsp (15g) Tomato Puree – 2 tbsp Green chilly – 1no. Ginger – Garlic Paste – ½ tsp Cumin Seeds – ½ tsp Coriander leaves – a few – for garnish (Optional) Oil – 1tbsp (15g) Salt – ¼th tsp
Preparation:
Heat oil in a pan. Add Cumin Seeds, Onion, green chilli and fry for some time.
Add ginger- garlic paste and fry for some time.
Add boiled Corn, Tomato Puree and salt and cook well.
Mix in rice to the corn masala
Garnish with Coriander Leaves. Serve Hot.
Nutritive Value per Serving
Calories – 178 KCal Protein – 3 g Sodium – 168mg Potassium – 119mg Phosphorous – 71mg