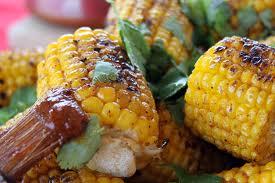 Portions: 4
Serving size: 1/4th ear
Highlights:
1.Healthy snack.
2.Natural.
Ingredients:
1 Corn, large-tender
1/2tsp Jeera powder
1/4tsp Pepper powder
¼ tsp Chili powder
1tsp Fresh coriander
1tsp Olive oil
½ Lemon
Preparation for Masala Corn:
1.  Take out the tender corn in a bowl and steam it.
2. Mix Jeera powder, pepper powder and chili powder and add to the steamed corn
3. Add 1tsp of olive oil and garnish with 1 tsp fresh coriander.
4. Squeeze ½ lemon (optional) and Masala corn is ready for 4 portions.
Preparation for Corn on the Cob:
1. Roast the whole Corn on hot coal rotating all the sides directly or by covering in a aluminum foil.
2. Once tender, run half lemon dipped in pepper powder or chili powder.
3. Cut into 4 pieces.
4. Corn on the cob is ready.
Tip: Savor the natural flavor of the corn after roasting.
Disclaimer: Including this recipe without consulting your dietitian may cause disturbances in your laboratory results. Creating variety in your eating pattern is one way to improve your quality of life.