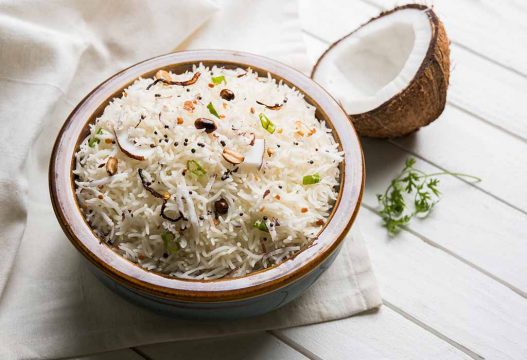 Coconut Rice is a traditional rice preparation of south India. It is a simple recipe made during festivals like Pongal and Navratri.
Portions: 4 Bowls
Serving size: 1 Bowl
Ingredients:
Coconut , fresh grated 1 cup
Cooked white rice 4 bowls
Mustard seeds 1 tsp
Groundnuts 2 tbsp
Urad dal 1 tsp
Channa dal 1 tsp
Black pepper
Grounded 10 corns
Ginger chopped ½ tsp
Green chilies, chopped 2 tbsp
Curry leaves 1 sprig
Hing ¼ tsp
Oil 3 tbsp
Salt ¼ tsp (as suggested by dietician)
Preparation:
Heat oil in a pan. Add Mustard seeds, when it splutters, add urad dal, Channa dal and Ground nuts and roast for 2-3 minutes.
Then add Chopped Green chilies, Chopped Ginger, Hing, Curry leaves and Grounded Pepper powder. Sauté for 1-2 minutes.
Add fresh grated Coconut, mix it well for ½ minute.
Switch off the flame
Add cooked rice, salt and mix it well.
Serve hot
Nutritive value as per one serving:
Calories

Kcal

Proteins

gram

Sodium

mg

Potassium

mg

Phosphorus

mg

243
5.37
156.65
147.51
71.8
Note: An average whole coconut kernel is between 200-215 g. And 1 cup grated coconut is approx. 80 g. The potassium content of fresh coconut per 1 cup is 196 mg and 591 mg for dry coconut.
-To keep a check on potassium levels, avoid any dal/pulse preparation on the day you want to enjoy coconut rice.