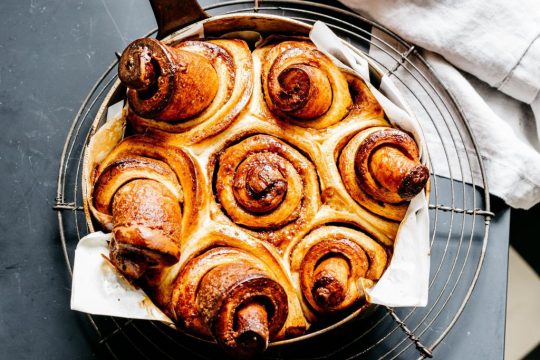 Portion: 6 in no
Serving size: 1 rose
Ingredients:
Apple 1 large, sliced
Sugar 1 tsp
Pastry sheet, 1 in no
Water 2 tbsp.
Lime Juice 1 tbsp.
Cinnamon powder 1 tbsp.
Powdered sugar 1 tbsp. (Optional)
Procedure:
Preheat the oven for 10 mins.
Cut the apple into half; remove the core and cut apple in thin slices using a mandolin or vegetable slicer.
Place the cut apple in water. Add lime juice and 1 tsp sugar so that they will not change colour.
Microwave it for 2-3 min for 600 W or until slices turn soft and are easy to roll.
Roll the pastry puff dough and cut it only 9 x 2 long stripes.
Arrange the apple slice on the dough, overlapping one another. Make sure the top (skin side) of the slices sticks a little out of the strip.
Fold up the bottom part of the dough. Add cinnamon powder and carefully roll the dough, keeping the apple slices in place.
Place it in a regular muffin cup in pre-heated oven for 40 mins at 375 C.
Sprinkle with powder sugar (Optional) and serve.
Note: Make sure the pastry is fully cooked on the inside before removing the roses from the oven! If after the first 30 minutes, the apples start to burn on top, move the pan to a lower rack of the oven and cover loosely with aluminium foil for these last 10-15 minutes, to avoid burning the top.
Nutritive value as per one serving
Calories – 50 KCal
Proteins – 0.2 gram
Sodium – 49 mg
Potassium – 54 mg
Phosphorus – 10 mg
Quick Shopping tip
Pastry sheets are available on Big Basket 320 g (Price: 100/-)