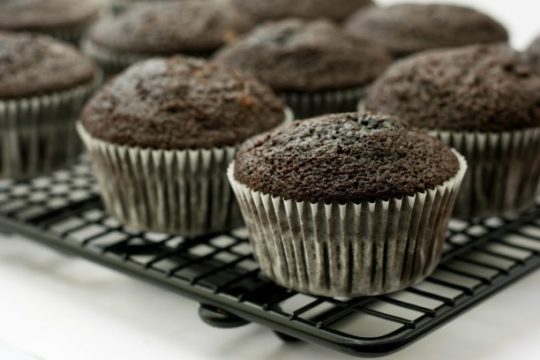 Portion: 18 in no
Serving size: 1 in no
Ingredients:
Maida 1 ½ cup
Sugar 1 cup
Cocoa powder 1/3 cup
Baking soda 1 tsp
Oil ½ cup
Vinegar distilled 1 tbsp.
Vanilla essence ½ tsp
Salt ½ tsp
Procedure:
Preheat the oven at 180 C.
Sift all the dry ingredients together.
Add oil and vinegar to the flour mixture.
Using a wire whisk and mix it properly. Whisk until batter turns light.
Fill the each muffin cup about 2/3 full with the batter.
Bake the muffin tray for 20-25 min.
Remove it from the oven; let it cool by itself in the tray for 10 mins.
Chocolate cup cake is ready to eat. It stays moist and good in airtight container for 4-5 days.
Nutritive value as per one serving
Calories – 101 Kcal
Protein – 1 gm
Sodium – 181 mg
Potassium – 22 mg
Phosphorus – 15 mg
Note: If salt is not added in the mixture, the sodium content of one serving of cupcake will be 44 mg.