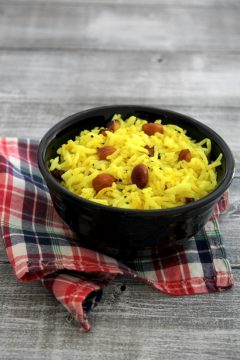 Portions: 4
Serving Size: 1/2c
Highlights
1 This is a South Indian preparation for festive occasion and a good alternative to tamarind rice in summer.
2. Recipe for all those who are looking forward for sour taste. Do not add salt to compensate the taste. Only a pinch is acceptable.
Ingredients
2c cooked white rice-medium grain
2Tbsp grated green mango
1tsp rice vinegar
2-3 green chilies longitudinal halves
1 whole Red chili
2Tbsp chana dal (Bengal gram)
1tsp urad dal ( Black gram)
1Tbsp sesame seeds
1/2tsp mustard seeds
1/2tsp turmeric powder
1 tsp sugar (optional)
1Tbsp oil
Curry leaves and cilantro
Preparation
1.Heat pan and add oil. In heated oil, add mustard seeds, green and red chilies. Also add urad dal, chana dal and roast them on the low flame heat.
2. Add turmeric and grated mango and toss the ingredients. Grated mango need not be cooked. Add sesame seeds here.
3. Add the cooked rice and gently mix.
4. Garnish it with curry leaves and cilantro.
Disclaimer: Including this recipe without consulting your dietitian may cause disturbances in your laboratory results. Creating variety in your eating pattern is one way to improve your quality of life.