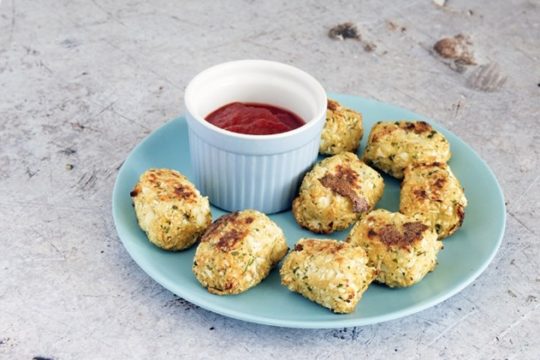 Healthy and low calories recipe. Easy to make appetizer with very few ingredients.
Portion size: 10 in no
Serving Size: 2-3 in no
Ingredients:
Cauliflower, medium size (250 g)
Onion, small 1 in no
Breadcrumbs 2 tbsp
Mixed herbs ½ tsp
Nutritional Yeast 1 tsp (Optional)
Oil 1 tsp
Salt 1/8 tsp
Procedure:
Grate Cauliflower and onion on a grater or you can pulse it on a food processor until it resembles rice. Squeeze out extra liquid form the mixture; it is best to do with your hands.
Transfer to a mixing bowl and add all the other ingredients. Mix well until fully combined.
Divide the mixture in ten portion and roll it into tot shape. Squeeze out any excess liquid. Brush them with oil and place on the baking tray.
Bake in tots at 180 degree C, pre-heated oven for 25 minutes or until golden brown, turning with a spatula half way through the cooking time.
Serve warm with tomato sauce or allow to cool completely and store in an airtight container in the fridge.
Nutritional Content per tot:
| | | | | | |
| --- | --- | --- | --- | --- | --- |
| Energy Kcal | Protein g | Sodium mg | Potassium mg | Phosphorus mg | Fibre g |
| 20 | 1 | 52 | 98 | 16 | 1 |
Note:
Ketchup Nutritional Content 1tsp (6 g)
Energy 6 Kcal |  Protein 0 g | Sodium 67 mg | Potassium 22.9 mg | Phosphorus 2 mg
By:
Mrinal Pandit, Chief Dietitian, NephroPlus