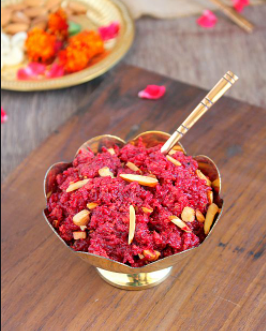 Portions: 6
Serving size: 1/3 cup
Highlights:
1. Delicious Indian pudding.
2. Variation recipe of "Gajar Ka Halwa" for dialysis.
Ingredients:
1 Cup thickly grated carrots
2 Cups thickly grated beetroot
1 Tbsp Ghee
2 tsp Vegetable oil
2 Tbsp Toned milk
1/4c Sugar or Sugar free
1/4c Paneer-(home-made)
1 tsp Elaichi powder (cardamom)
10 Almonds
Preparation:
1. Boil the grated carrots in 6 cups water for 5 minutes and drain the water.
2. In a pressure cooker, heat ghee and sauté drained grated carrots and grated beetroot continuously for 5 minutes on low flame.
3. Add 2Tbsp of toned milk, stir well and pressure cook till 1 whistle.
4. In another pan, heat oil and add crumbled paneer and add 1Tbsp sugar. Stir continuously and cook till it becomes granulated.
5. Add the granulated paneer to the cooked carrot and beet. Stir well and cook for 7-10 minutes.
6. After cooking for 10 minutes, add remaining sugar and lightly powdered badam and finely powdered elaichi to the above. Stir well and cook for another 2 minutes.
7. Serve hot.
Tip: You can make only beetroot halwa instead of adding carrot and consume ½ cup as one serving.
Nutrients per serving:
Calories: 138Kcal
Protein: 3g
Carbohydrates: 14g
Fat: 7g
Sodium: 65mg
Phosphorus: 148mg
Calcium: 47 mg
Potassium: 75mg
Disclaimer: Including this recipe without consulting your dietitian may cause disturbances in your laboratory results. Creating variety in your eating pattern is one way to improve your quality of life.