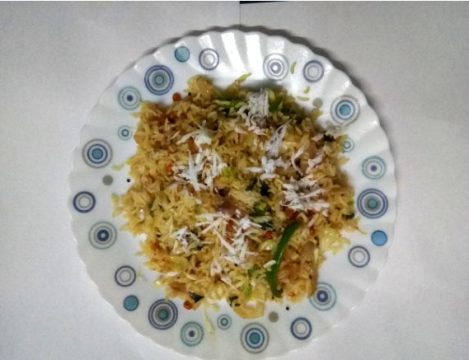 Portions – 5 nos.
Serving Size – 90g (2/3rd cup)
Ingredients (1 cup = 150g)
Cooked Rice – 300g (2 cups) (raw weight 100g)
Chopped Cabbage – 150g (1 cup)
Grated Carrot – 2 tbsp
Chopped Capsicum – 2 tbsp
Onion – ½ no. (50g)
Chopped Coriander Leaves – (Optional)
Grated Coconut – 2 tbsp (Optional)
Green Chilly – 1 no.
Mustard seeds – ½ tsp
Jeera (Cumin Seeds) – 1 tsp
Bengal Gram Dhal – 1 tbsp
Curry Leaves – few
Garam Masala – ½ tsp
Chilly Powder – ½ tsp
Turmeric Powder – ½ tsp
Oil – 3 tsp
Salt 1/4th tsp
Method of Preparation:
Heat Oil in a pan. Temper with mustard seeds, jeera, Bengal Gram Dal, Curry leaves. Saute and let Splutter.

Add Onion, Green Chilly. Saute.

Add Carrot, Capsicum, Saute and cook.

Then add Cabbage, salt and sauté for 3 minutes and cook well.

Add Turmeric, Chilly Powder, Garam Masala. Saute on low flame.

Add cooked Rice, some salt, mix well and saute for 2 minutes.

Add Coriander Leaves, grated Coconut before removing from flame.

Serve Hot
Nutritive Value as per one Serving
Calories – 170 calories
Protein – 3g
Sodium – 110mg
Potassium – 227mg
Phosphorous – 68mg
Disclaimer: Including this recipe without consulting your dietitian may cause disturbances in your laboratory results. Creating variety in your eating pattern is one way to improve your quality of life.