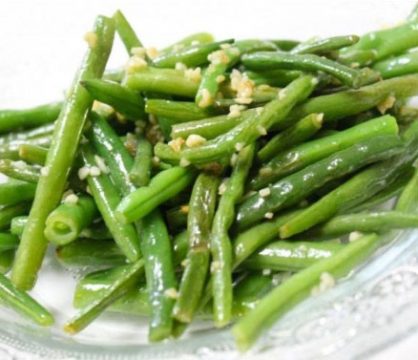 Portion size: 2 cups
Serving size: ½ cup
Ingredients:
French beans 2 cups
Garlic, chopped 2 tsp
Butter, unsalted 1 tsp
Pepper ¼ tsp
Salt 1/8 th tsp (Or as suggested by the dietician)
Preparation:
Clean the beans and cook in boiling water until tender.
Drain (this will help leach potassium form the beans) and cool under cold running water
Melt butter in a pan and add garlic, and cook until garlic is fragrant and lightly browned.
Add green beans; stir fry for 2 to 3 minutes.
Season with pepper and salt.
NUTRITIVE VALUE AS PER ONE SERVING
Calories: 30 Kcal
Proteins: 1.32 gram
Sodium: 77.1 mg
Potassium: 172.5 mg
Phosphorus: 32.8 mg
Disclaimer: Including this recipe without consulting your dietitian may cause disturbances in your laboratory results. Creating variety in your eating pattern is one way to improve your quality of life.