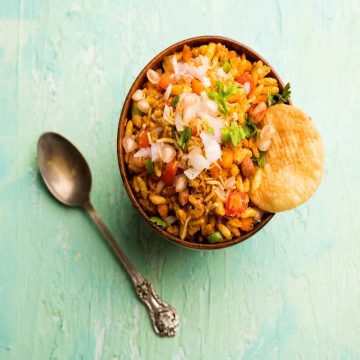 Portions: 4
Serving size: 1/2c
Highlights:
1. Savory Indian Snack.
Ingredients:
1c Murmura (puffed rice)
½ c Home-made Chirva
¼ c Putana dal, roasted (Bengal gram roasted)
¼ c Onions chopped
2 Green chilies thinly chopped
2 Tbsp Coriander chutney
1 Lemon -medium
Preparation:
1. In a large bowl add all the above ingredients and mix well.
2. Squeeze in the juice from 1 lemon and divide into 4 portions.
3. Enjoy on a rainy day!
Disclaimer: Including this recipe without consulting your dietitian may cause disturbances in your laboratory results. Creating variety in your eating pattern is one way to improve your quality of life.