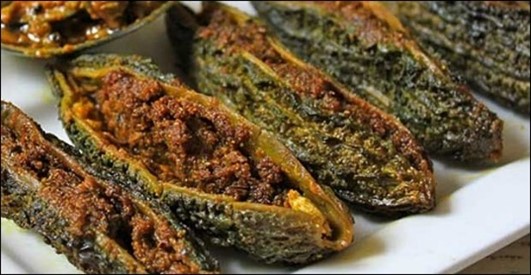 By: Ms Apeksha Ekbote, Msc, RD, Chief Dietitian, NephroPlus
A Punjabi delicacy which can be eaten as a side dish or with rotis
Portions – 6
Serving Size - 1
Ingredients:
Karelas/Bitter gourd-6 (1 karela approx.70gms)
Salt-1/4tsp or as per dieticians advice
For The masala – ½ tsp. Turmeric powder, ½ tsp. ginger powder,1tbsp coriander powder, ½ tsp. chilli powder, a pinch of hing or asafoetida, 1tsp roasted fennel seed coarsely powdered,1/2 tsp. roasted fenugreek seed coarsely powdered
Refined oil 1-2 tbsp.
   Preparation:
Scrape off the rough surface of the bitter gourd, slit length wise on one side, rub over with salt and keep aside for about 30 minutes
Squeeze the bitter gourd to remove the bitter juice and scoop out the hard seeds
Stuff the filling firmly in the karelas
Heat oil in a kadai, add the karela and cook on high flame on both sides for some time. After few minutes, cover and cook on low flame till cooked completely and browned well from all sides.
NUTRITIVE VALUE FOR ONE SERVING
| | |
| --- | --- |
| Calories | 56.6 Kcal |
| Protein | 1.4 gm |
| Sodium | 137.6 |
| Potassium | 256.2 mg |
| Phosphorus | 33.6 mg |