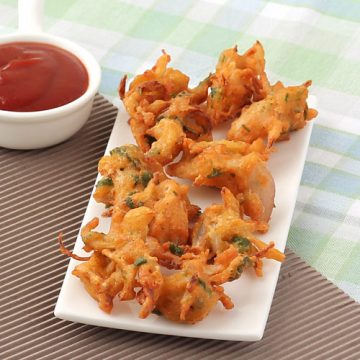 Portions: 10
Serving size: 5
Highlights:
1. Monsoon snack.
2. For occasional indulgence.
Ingredients:
2 Onions
1 cup Besan (Gram Flour)
½ cup Rice Flour
½ cup Suji (Semolina)
½ tsp Jeera Powder
½ tsp turmeric powder
Oil for frying
Preparation:
1. Cut the onions longitudinally into medium thickness for cooking fast.
2. Mix rice flour, gram flour, semolina, jeera powder, and turmeric powder in a bowl.
3. Add chopped onions and mix lightly adding little water only. The mixture should bind together but little dry rather than of running consistency.
4. Heat the oil in a pan. When oil gets heated, using a teaspoon put the batter in oil to make pakoras.
5.Cook till light brown in color and take them on a plate lined with paper towel.
Tip: Making pakoras with less moisture instead of running consistency of the batter will absorb less oil and fry faster.

You can replace vegetables with many other ingredients. Ask your dietitian to individualize your needs.
Disclaimer: Including this recipe without consulting your dietitian may cause disturbances in your laboratory results. Creating variety in your eating pattern is one way to improve your quality of life.