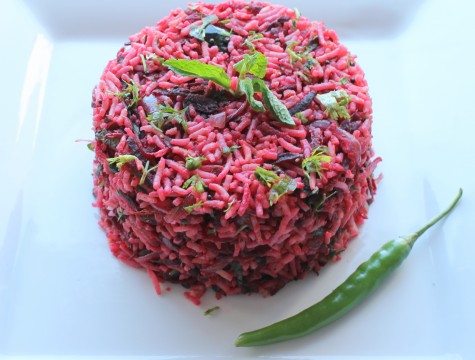 Portions: 6
Serving size: 1/2 cup
Ingredients:
1. 1 cup Basmati rice, raw
2. 1/2 cup chopped onion
3. 1 cup cubed beetroot
4. 1 cup fresh green peas
5. 2 green chillies finely chopped
6. 2 tsp grated ginger
7. 2 tsp grated raw mango, green
8. 3 cloves whole
9. 2 bay leaves
10. 3/4 tsp black pepper
11. 1/2 tsp cumin seeds
12. 2 Tbsp sunflower oil
13. 1/4 tsp salt
Preparation:
1. Wash basmati rice under running water and fry in the pan until granulated. Keep it aside.
2. In the pan to cook rice, heat oil and add cumin seeds, chopped onions, ginger, bay leaves, cloves and green chilies.
3. After sautéing the above for 2 min, add beetroot, fresh green peas to the above and sauté for another 5 min. Then add dry spices and granulated rice. Stir well.
4. Pour 3.5 cups of water and cover the lid to cook. When water starts boiling, simmer the stove and cook pilaf until soft and fluffy.
5. Stir pilaf to mix all the vegetables evenly.
6. Remove from fire and serve.
Nutrients per serving:
Calories: 197 Kcal
Protein: 5 g
Carbohydrates: 34 g
Fat: 5 g
Sodium: 118 mg
Phosphorus: 108 mg
Calcium: 24 mg
Potassium: 64 mg