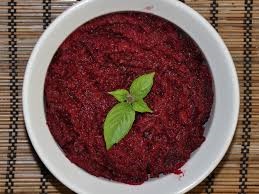 Ingredients: 1 cup =150 g
Beetroot, leached 1-1 ½ cup
Green chilies 1-2 in no
Red chilies 1-2
Curry leaves 1 sprig
Jeera powder ½ tsp.
Ginger ½ inch
Chana dal 1 tsp.
Urad dal 1 tsp.
Oil for tadka (Optional)
Lemon juice or tamarind paste as needed
Preparation : 
Cut leached beet root in cold water.
Dry roast dal until golden, add curry leaves, garlic, red chilies, green chilies.
 Fry until leaves turn crispy. Set aside to cool.
Drain water from beet root. Blend all the ingredients well.
Add lime juice.
Note: Beetroot is rich in iron, adding lime juice in the preparation can increase absorption.
Nutritive Value as per 1 cup (150 g).
Calories : 102 Kcal
Proteins : 5.9 gm
Sodium : 79.39 mg
Potassium : 172 mg
Phosphorus : 144.5 mg
*Serving size 1 tbsp. (15 g) = 17.2 mg potassium.