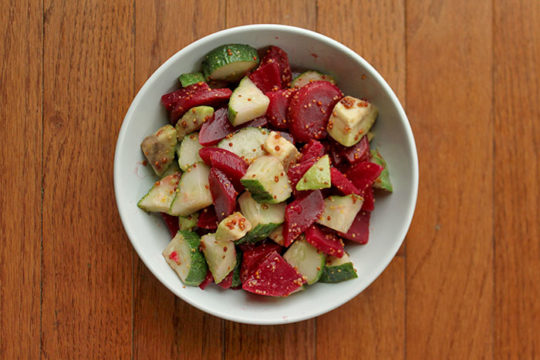 Portion: 4 bowls
Serving Size: 1 bowl
Ingredients:
Cucumber 1 medium
Beetroot 2 small
Lime ½ tsp
Extra Virgin Oil 1 tsp
Chilies flakes ¼ tsp
Procedure:
1.  Soak cucumber and beetroot in water for 30 mins.
2. Clean the vegetables and wipe it dry.
3. Peel beetroot and chop both the vegetables in cubes.
4. Toss diced vegetables with lime juice, chilli flakes and oil.
5. Serve cold.
Nutritive value as per one serving:
Calories : 29 Kcal
Proteins: 0.7 gram
Sodium: 18.3 mg
Potassium: 145 mg
Phosphorus: 20 mg
Note: Add 1 tsp of vinegar to the water while soaking vegetables. It removes dirt and pesticides.