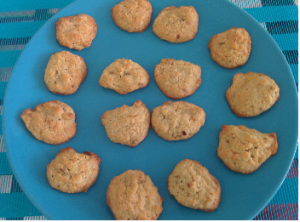 Portions: 6
Serving size: 5
Highlights:
1. No added salt or fat
2. Protein and fiber rich
3. Crispy snack
Ingredients:
1/2 C Bengal Gram Dhal, (Chana Dal)
2 Tbsp Chickpea flour (Besan)
1Tbsp Curd, sour
1 tsp Cumin seeds
1 tsp Grated ginger ( optional)
Sprinkle of chili flakes
Preparation:
In a bowl soak chana dal for 2 hours. After dal becomes double the quantity, grind it neither coarse nor thin. This will allow baked vada to be little soft, yet crisp.
Add besan to make thicker consistency for vada.
Add all spices and curd and mix well.
Line a parchment paper on a baking tray.
Use spoon to lay vadas on the parchment paper to bake.
Bake at 160 C for around 10 minutes, or till it turns golden brown.
Masala vadas are ready.
Tip:
If you want more crispness, take out vadas after baking for 5 minutes and brush the vadas with oil on the top and bake again for another 5 minutes.
Nutrients per serving:
Calories: 70 Kcal
Protein: 4 g
Carbohydrates: 11 g
Fat: 1 g
Sodium: 15 mg
Phosphorus: 36 mg
Calcium: 23 mg
Potassium: 137 mg
Dietary Fiber: 2.5 g
Disclaimer: Including this recipe without consulting your dietitian may cause disturbances in your laboratory results. Creating variety in your eating pattern is one way to improve your quality of life.