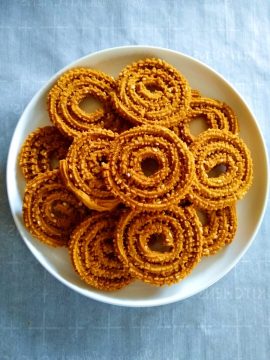 Portions– 20 in no
Serving size– 1-2
Ingredients
Jowar flour 1 cup
Rice flour 1 tsp
Hing ¼ tsp
Haldi ¼ tsp
Jeera, crushed 1 tsp
Red chilli powder 1 tsp
Sesame seeds, roasted 1 tsp
Oil 1 tbsp.
Salt ½ tsp
Procedure
Combine all the ingredients in a bowl and mix it into soft dough using enough water.
Add 1 tsp hot oil in the mixture and mix well. Allow the dough to stand for 10 mins.
Now add the dough in the Chakali press and make swirls on a greased baking tray.
You will get about 20 chakalis. Brush the chakalis using 1 tsp oil.
Bake these chakalis in a pre-heated oven at 180°c for 20 to 25 minutes, turn all the chakalis once after 10-12 mins.
Store in airtight container.
Nutritive value per piece
Calories – 28 Kcal
Proteins – 0.6 gram
Sodium – 0.7 mg
Potassium – 9.3 mg
Phosphorus – 18 mg