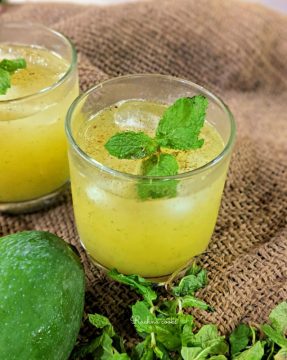 Portions: 1
Serving size: 3/4c fluid
Highlights:
1.Rejuvenating instant thirst quencher
2.North Indian tangy summer drink to beat the heat
Ingredients:
1/3 c ice cubes
1 raw Indian green mango (medium)
2 Tbsp fresh mint leaves
½ tsp crushed pepper
½ tsp roasted cumin powder
1 tsp of sugar or sugar substitute
Preparation:
1.Boil green mango in a pressure cooker.
2. Drain water and let it cool. Peel skin and take out the pulp from the mango.
3. Grind pulp, pepper, cumin & mint leaves together. Take out 1Tbsp pulp and store the rest in airtight bottle in freezer.
4. Blend 1Tbsp of above ground pulp with 1/3 cup cold water and 1 tsp of sugar.
5. Blend 1/3 c ice cubes to make crushed ice.
6. Pour the blended juice over crushed ice.
7. Garnish with fresh mint leaf.
Useful Tip: You may freeze the drink in the ice cube tray to use as needed when thirsty. Adding salt will make you thirstier.
Nutrients per serving:
Calories:29Kcal
Protein:0 g
Carbohydrates: 7g
Fat: 0g
Sodium: 12mg
Phosphorus: 10mg
Calcium: 13mg
Potassium: 34mg
Disclaimer: Including this recipe without consulting your dietitian may cause disturbances in your laboratory results. Creating variety in your eating pattern is one way to improve your quality of life.